Vacanze al Lago di Molveno, Dolomiti di Brenta
Dolomiti di Brenta, Rifugio Silvio Agostini
The Agostini Refuge is at the higher end of the Ambiez Valley, a short distance from the Ambiez hanging glacier. This is the southernmost refuge in the Brenta Dolomites. It offers magnificent views over the Giudicarie Valley and its Bondone, Stivo and Baldo peaks as well as over Monte Gazza opposite. It is reached by following path 325 which climbs up through the Ambiez Valley.
A jeep offers a taxi service as far as the Al Cacciatore Refuge below. Other routes leave from Molveno, Seo-Stenico and San Lorenzo through the Doré Valley or over the Forcella Bregain Col or through the Jon Valley or past Masi di Dengolo: although delightful, these are all fairly tiring routes and should perhaps be avoided by those hoping to reach the Agostini Refuge without too much effort.
The easiest high altitude refuge to get to from the Agostini is the Pedrotti following the Palmieri path. In addition the Dodici Apostoli, Brentei, Alpenrose, Malga Andalo, Ghedina and, of course, Al Cacciatore refuges are all linked directly to the Agostini Refuge along unusual routes used by few people.
GENERAL INFORMATION

Altitude
m.2410
Location
Val d'Ambiez
number of beds
60
telefono , fax

0465-734138

opening period indicative

20.6 – 20.9
Access routes: from San Lorenzo in Banale along the Ambiez Valley (path 325)

difference in height

: m. 1550

maximum height

: m.2410 , Rif. Agostini

Description

:

area

height

time between areas

time from start

notes, route variations

Baesa-Ristoro Dolomiti
860
0
0
-
ex Malga Prato di Sotto, fork 342
1671
150
h 2,30
-
Rif. Al Cacciatore, fork 348
1821
20
h 2,50

Path for the Malga Asbelz, Jon Valley or Malga Valandro

Busa dei Malgani, fork 351
1960
35
h 3,25

path for the Alpenrose Refuge via the Forcella Bregain Col

Rifugio Agostini

2410
60
h 4,25
--
| | |
| --- | --- |
| | |
| | |
| The Silvio Agostini Refuge, recently renovated: on the right can be seen the enormous boulders that used to form the peak of the Torre Jandl and which broke loose in 1957 | u Cartina per gentile concessione Editrice La Giralpina |
| | |
Access routes: from San Lorenzo in Banale along the Jon Valley (path 349)

difference in height

: m. 1988

maximum height

: m.2410 , Rif. Agostini

Description:

area

height

time between areas

time from start

notes, route variations

Ponte di Baesa
798
0
0
See Map
fork per Dengolo , s.342
964
30
h 0,30
--
Masi di Jon
1126
20
h 0,50
--
Malga Bassa Andogno
1663
110
h 2,40
--
Malga Asbelz
1956
60
h 3,40
--
fork 349-348,lago Asbelz
2024
10
h 3,50

take path 348 to the north (turn right), then, following path 348 to the left, you come to Seo

Sella di Colmalta
2276
45
h 4,35
--
Prà del Vescovo, sopra M.ga Senaso di Sopra
1900
60
h 5,35

descent along an unmarked path towards the Malga Senaso di Sopra and Malga Senaso di Sotto, from here short cut back to Baesa along path 342 or 325

Le Mughere , fork 348- 325
1925
90
h 7,05

from here in a few minutes you get to the Al Cacciatore Refuge

Rifugio Agostini
2410
80
h 8,25
--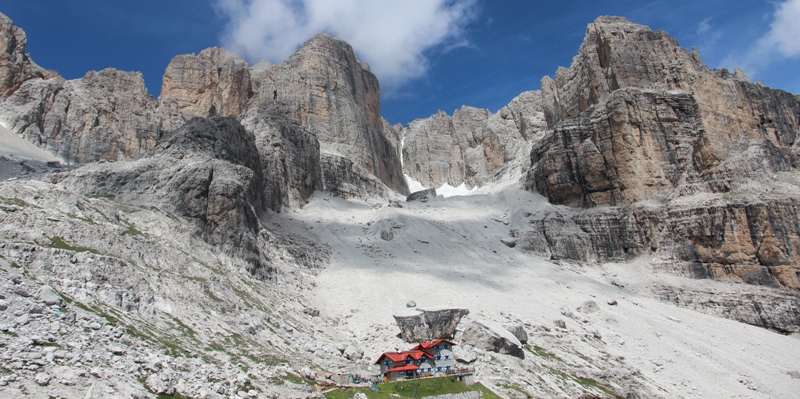 access route from Molveno along the Ceda Valley (path 326, 320)

difference in height

: m.1588

maximum height

: m.2423, Forcolotta di Noghera

Description:

area

height

time between areas

time from start

notes, route variations

Molveno -Camping Strada Ponte Romano
326
835
0
0

Cartina su gentile concessione Editrice la Giralpina
fork 332- 326
326
925
15 min.
h 0,15
La Vela , fork strada for, s.326
326
1174
30
h 0,45
ex malga di Ceda Bassa
326
1440
65
h 1,50
rovine di Malga Ceda Alta
326
1888
80
h 3,10
FORK 320-326, cresta est di Ceda
320 a sin
2414
90
h 4,40
svoltando a destra per il 320 si arriva in circa 90 min. al Rifugio Pedrotti
Forcolotta di Noghera, fork 320-345
320
2423
15
h 4,55
il Sent 345 porta al rifugio Alpenrose per la Val Doré
Rifugio Agostini
2410
50
h 5,45
--
| | |
| --- | --- |
| | |
| | |
| The "towers" of the Ambiez Valley seen from the Al Cacciatore San Lorenzo Refuge | Cima di Ghez |
| | |
| Cima Ambiez e a destra I Castei | Rifugio Agostini dal s.320 con Cima D'Agola, Cima Susat, Cima Prato Fiorito, Le Tose |
| | |
Access from the Alpenrose Refuge near San Lorenzo in Banale on path 345 along the Doré Valley and the Rossati peak, path 345

difference in height

: m.1588

maximum height

: m.2423, Forcolotta di Noghera

Description: SEE MAP

area

height

time between areas

time from start

notes, route variations

Rifugio Alpenrose,
345
1074
0
0

accessible by car as far as the car park just above the Bar Erica

fork 345-345b
345
1541
1,20
1,20

Cartina per gentile concessione Editrice La Giralpina
Passo dei Rossati
345
2358
2,20
3,40
Spigolo est Dalum
345
1980*
1,00
4,40
Forcolotta di Noghera,fork 320
320
2423
1,30
6,10
Rifugio Agostini
--
2410
0,50
7,00

Visualizza Parco Adamello Brenta, Settore Brenta in una mappa di dimensioni maggiori